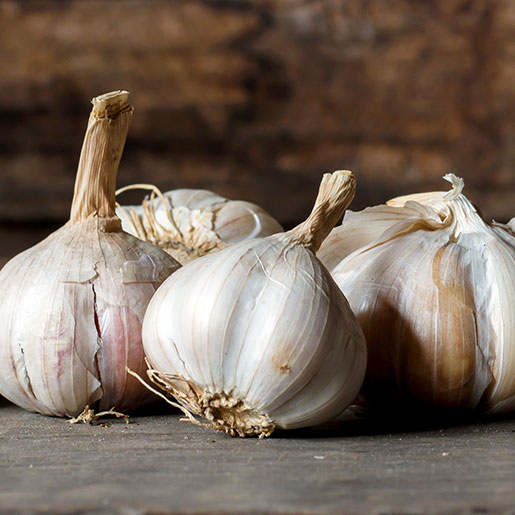 Latin Names: Allium sativum
Garlic is the edible bulb from a plant in the lily family. It was traditionally used for health purposes by people in many parts of the world, including the Egyptians, Greeks, Romans, Chinese, and Japanese.
Currently, garlic is most commonly promoted as a dietary supplement for conditions related to the heart and blood vessels, including high blood cholesterol and high blood pressure.
Fresh garlic, garlic powder, and garlic oil are used to flavor foods. Garlic may be used topically (applied to the skin).
A great deal of research has been done on garlic, especially on garlic's effect on high blood lipid levels (hyperlipidemia) and high blood pressure (hypertension).
While there's conflicting evidence, the most reliable results suggest that taking garlic supplements may reduce total cholesterol and low-density lipoprotein (LDL) cholesterol levels in people with high levels of these blood lipids. If it does, the effect is small, and it may take more than 8 weeks before noting any improvement. Taking garlic doesn't appear to improve high-density lipoprotein (HDL) levels or triglycerides (another blood lipid).
Garlic supplements may be helpful for high blood pressure, but the evidence is limited.
The most reliable research has found that intake of garlic as a food or supplement is not associated with a reduced risk of developing gastric cancer. However, epidemiologic studies suggest a link between higher intakes of vegetables in the garlic family (which includes onions, shallots, chives, and leeks as well as garlic) and lower risks of certain cancers, particularly gastrointestinal cancers.
There's not enough evidence to show whether garlic is helpful for the common cold.
What Do We Know About Safety?
Garlic is probably safe for most people in the amounts usually eaten in foods.
Little is known about whether it's safe to use garlic supplements or apply garlic to the skin during pregnancy or while breastfeeding.
Side effects include breath and body odor, heartburn, and upset stomach. These side effects can be more noticeable with raw garlic. Some people have allergic reactions to garlic.
Taking garlic supplements may increase the risk of bleeding. If you take an anticoagulant (blood thinner), such as warfarin (Coumadin), or if you need surgery, tell your health care provider if you're taking or planning to take garlic supplements.
Garlic supplements may interfere with the effectiveness of some drugs, including saquinavir, a drug used to treat HIV infection. Garlic supplements may also interact with some dietary herbs and other supplements.
Take charge of your health—talk with your health care providers about any complementary health approaches you use. Together, you can make shared, well-informed decisions.
NCCIH Clearinghouse
The NCCIH Clearinghouse provides information on NCCIH and complementary and integrative health approaches, including publications and searches of Federal databases of scientific and medical literature. The Clearinghouse does not provide medical advice, treatment recommendations, or referrals to practitioners.
Toll-free in the U.S.: 1-888-644-6226
Telecommunications relay service (TRS): 7-1-1
Website: https://www.nccih.nih.gov
Email: info@nccih.nih.gov (link sends email)
Office of Dietary Supplements (ODS), National Institutes of Health (NIH)
ODS seeks to strengthen knowledge and understanding of dietary supplements by evaluating scientific information, supporting research, sharing research results, and educating the public. Its resources include publications (such as Dietary Supplements: What You Need To Know) and fact sheets on a variety of specific supplement ingredients and products (such as vitamin D and multivitamin/mineral supplements).
Website: https://ods.od.nih.gov
Email: ods@nih.gov (link sends email)
This publication is not copyrighted and is in the public domain. Duplication is encouraged.
NCCIH has provided this material for your information. It is not intended to substitute for the medical expertise and advice of your health care provider(s). We encourage you to discuss any decisions about treatment or care with your health care provider. The mention of any product, service, or therapy is not an endorsement by NCCIH.
Last Updated: December 2020