Know the Science of Complementary Health Approaches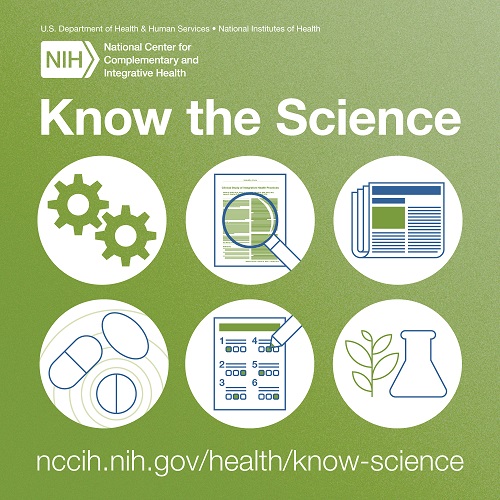 It's important for patients to know the science of health. As you know, there is a lot of misinformation circulating about health—from anecdotes disguised as evidence to excessive claims made by supplement manufacturers to TV doctors touting the latest "miracle cure." Reliable health information is key to making good health decisions, but it can be difficult to tell the difference between facts and myths, particularly in the area of complementary and integrative health approaches.
The National Center for Complementary and Integrative Health's (NCCIH's) "Know the Science" initiative is a resource to help consumers better understand complex scientific topics related to health research. It can help them be discerning about what they hear and read so they can make well-informed decisions, especially about complementary and integrative health, where many approaches are readily available in the marketplace and are often selected for self-care. The Know the Science initiative covers topics such as how to make sense of a scientific journal article; drug-supplement interactions; facts about health news stories, the placebo effect, and health-related risks; and the myths about "natural" products.
This issue of the digest highlights some of these topics to help your patients know the science of health and may help improve conversations about treatment options and health care decision making.
NCCIH Clinical Digest is a service of the National Center for Complementary and Integrative Health, NIH, DHHS. NCCIH Clinical Digest, a monthly e-newsletter, offers evidence-based information on complementary health approaches, including scientific literature searches, summaries of NCCIH-funded research, fact sheets for patients, and more.
The National Center for Complementary and Integrative Health is dedicated to exploring complementary health products and practices in the context of rigorous science, training complementary health researchers, and disseminating authoritative information to the public and professionals. For additional information, call NCCIH's Clearinghouse toll-free at 1-888-644-6226, or visit the NCCIH website at nccih.nih.gov. NCCIH is 1 of 27 institutes and centers at the National Institutes of Health, the Federal focal point for medical research in the United States.
Copyright
Content is in the public domain and may be reprinted, except if marked as copyrighted (©). Please credit the National Center for Complementary and Integrative Health as the source. All copyrighted material is the property of its respective owners and may not be reprinted without their permission.