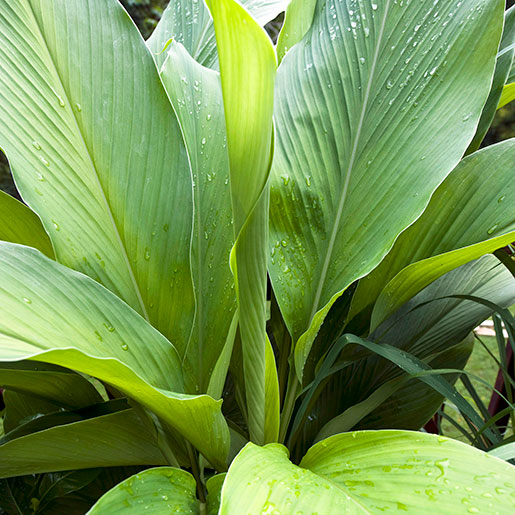 Common Names: turmeric, turmeric root, Indian saffron
Latin Names: Curcuma longa, synonym Curcuma domestica; Curcuma aromatica
Turmeric, a plant in the ginger family, is native to Southeast Asia and is grown commercially in that region, primarily in India. Its rhizome (underground stem) is used as a culinary spice and traditional medicine.
Historically, turmeric was used in Ayurveda and other traditional Indian medical systems, as well as Eastern Asian medical systems such as traditional Chinese medicine. In India, it was traditionally used for disorders of the skin, upper respiratory tract, joints, and digestive system.
Today, turmeric is promoted as a dietary supplement for a variety of conditions, including arthritis, digestive disorders, respiratory infections, allergies, liver disease, depression, and many others.
Turmeric is a common spice and a major ingredient in curry powder. Curcumin is a major component of turmeric, and the activities of turmeric are commonly attributed to curcuminoids (curcumin and closely related substances). Curcumin gives turmeric its yellow color.
Turmeric dietary supplements are made from the dried rhizome and typically contain a mixture of curcuminoids. Turmeric is also made into a paste for skin conditions.
Much research has been done on substances from turmeric, but their health effects remain uncertain.
Turmeric and curcumin have a variety of interesting biological activities, but they're challenging to study because curcumin is unstable (it easily changes into other substances) and has low bioavailability (not much of it reaches the bloodstream) when it's taken orally. In addition, curcumin products may differ in composition or contain more substances than expected, which makes the results of research on these products difficult to understand and compare. Because the actions of turmeric and its components in people are complex and not well understood, no clear conclusions have been reached about whether these substances have benefits for health conditions.
NCCIH is funding research to determine whether and how curcuminoids may be converted in bone tissue into substances that may have effects on bone diseases.
What Do We Know About Safety?
Turmeric and conventionally formulated curcumin products are probably safe when taken orally or applied to the skin in the recommended amounts.
Efforts have been made to develop curcumin products with increased bioavailability, and many modified products are already on the market. Improving bioavailability might lead to increases in harmful effects as well as desirable ones.
Turmeric may be unsafe for use during pregnancy in amounts greater than those commonly found in food. Little is known about whether it's safe to use turmeric in amounts greater than those commonly found in food while breastfeeding.
Take charge of your health—talk with your health care providers about any complementary health approaches you use. Together, you can make shared, well-informed decisions.
NCCIH Clearinghouse
The NCCIH Clearinghouse provides information on NCCIH and complementary and integrative health approaches, including publications and searches of Federal databases of scientific and medical literature. The Clearinghouse does not provide medical advice, treatment recommendations, or referrals to practitioners.
Toll-free in the U.S.: 1-888-644-6226
Telecommunications relay service (TRS): 7-1-1
Website: https://www.nccih.nih.gov
Email: info@nccih.nih.gov (link sends email)
Office of Dietary Supplements (ODS), National Institutes of Health (NIH)
ODS seeks to strengthen knowledge and understanding of dietary supplements by evaluating scientific information, supporting research, sharing research results, and educating the public. Its resources include publications (such as Dietary Supplements: What You Need To Know) and fact sheets on a variety of specific supplement ingredients and products (such as vitamin D and multivitamin/mineral supplements).
Website: https://ods.od.nih.gov
Email: ods@nih.gov (link sends email)
Dei Cas M, Ghidoni R. Dietary curcumin: correlation between bioavailability and health potential. Nutrients. 2019;11(9):2147.
Friesen JB, Liu Y, Chen S-N, et al. Selective depletion and enrichment of constituents in "curcumin" and other Curcuma longa preparations. Journal of Natural Products. 2019;82(3):621-630.
Funk JL. Turmeric. In: Coates PM, Betz JM, Blackman MR, et al., eds. Encyclopedia of Dietary Supplements, 2nd ed. New York, NY: Informa Healthcare; 2010:754-765.
Gescher A. Editorial: curcumin: recent insights, novel developments, new challenges. Molecular Nutrition & Food Research. 2013;57(9):1509.
Heger M. Don't discount all curcumin trial data. Nature. 2017;543(7643):40.
Lopresti AL. The problem of curcumin and its bioavailability: could its gastrointestinal influence contribute to its overall health-enhancing effects? Advances in Nutrition. 2018;9(1):41-50.
Nelson KM, Dahlin JL, Bisson J, et al. Curcumin may (not) defy science. ACS Medicinal Chemistry Letters. 2017;8(5):467-470.
Nelson KM, Dahlin JL, Bisson J, et al. The essential medicinal chemistry of curcumin. Journal of Medicinal Chemistry. 2017;60(5):1620-1637.
Shen L, Ji H-F. The pharmacology of curcumin: is it the degradation products? Trends in Molecular Medicine. 2012;18(3):138-144.
Sorkin BC, Kuszak AJ, Bloss G, et al. Improving natural product research translation. FASEB Journal. 2020;34(1):41-65.
Turmeric. Natural Medicines website. Accessed at naturalmedicines.therapeuticresearch.com on December 27, 2019. [Database subscription].
This publication is not copyrighted and is in the public domain. Duplication is encouraged.
NCCIH has provided this material for your information. It is not intended to substitute for the medical expertise and advice of your health care provider(s). We encourage you to discuss any decisions about treatment or care with your health care provider. The mention of any product, service, or therapy is not an endorsement by NCCIH.